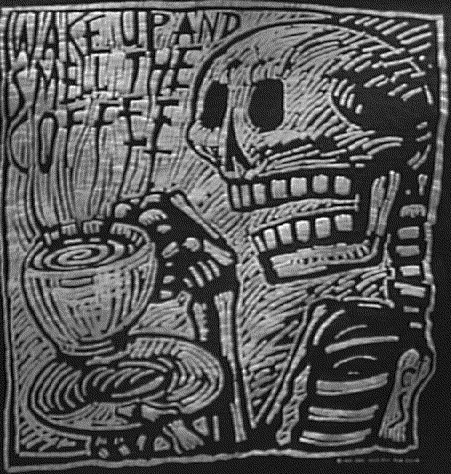 Nope, I haven't turned into Ian MacKaye, I'm not going to start giving soup to people exiting hardcore gigs at the Garage. It's from Coffee Mug by Descendents.

You know what's great? Coffee is great. Coffee is black gold, it pulls you in and won't let go. It comes in many guises, but they're all wonderful, wonderful java. A steaming espresso, wonderful. A big mug of coffee perks me up after a day at work better than your low-rent Red Bull, and it doesn't give you wings, it gives you a sense of self-affirmation that soars above that.

Buy Fair Trade coffee - it's better: it tastes better, it's better for the producer, it would probably clean your house and iron your shirts for you if you asked. Don't do it for Chris Martin, do it for me! You know it makes sense.

For some reason, here is a list of songs about caffeine. The fools neglect to mention the legendary Wildhearts' Caffeine Bomb (sorry, no audio).

Descendents - Coffee Mug (punk rock's greatest biochemist agrees with me)

i don't need no booze or drugs
i just chug-a-lug on my coffee mug
and i don't need no kiss and hug
i just chug-a-lug on my coffee mug

Label/album(download)/album (buy)

Lagwagon - Mr Coffee

morning has broken
mr coffee has spoken
the familiar wake up call
sings to my ears
i woke with a shrug
to the floor with a thud
where in this hellhole is my coffee mug
i can now face the day!
on legal speed (the american way)

buy Lagwagon/label/buy

Blur - Coffee & TV (courtesy of the lovely BadmintonStamps)
blur/buy

This is all the coffee songs I could think of (without actually trying, to be fair). Is there anymore (I mean good ones, locatable ones, not the ones on that list)?