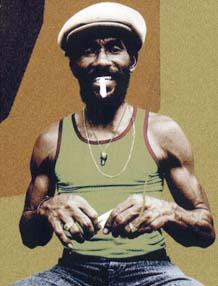 Last time around, Leaf was celebrating it's tenth anniversary: in a couple of years' time, Trojan will be 40. That's a not inconsiderable achievement for a specialist label like Trojan, but they seem to go from strength to strength, and a record collection without at least a couple of Trojan releases is sorely incomplete.
The Trojan name was around since the early sixties, taken from the founder, Duke Reid's sound system - fairly impressively carted around Jamaica on seven-ton trucks. I have visions of walls of speakers with this little man in the middle, and I like the idea of that. The label itself (as exists today) was launched in 1968 as a subsidiary of Island specialising solely in Jamaican music. That places it right about the time that rocksteady, itself a development of the more upbeat ska, was mutating into the more soulful reggae. Not only that, but that was about the time the ex-pat and post-Windrush generation that had colonised parts of the post-war UK were making the island sound popular in a significant way - only a year after it's formation, Trojan's first chart entry (well, number 46) came with Tony Tribe's 'Red Red Wine' - yes, it's a cover of a Neil Diamond song, but who doesn't love Neil Diamond. Of course, it's probably more famous these days sung in a whiney Brummie accent as UB40's version - I have Trojan liner notes which describe that version as 'limp', a satisfyingly judgemental dismissal of the kind which appeals particularly to the sort of person who's going to write a blog about music.

The label went on to have more commercial success via the likes of Jimmy Cliff, Bob Marley & The Wailers, Desmond Dekker, and Toots & The Maytals, a veritable who's who of Jamaican music. As their website is happy to admit, in many ways it wasn't the Jamaican community that was keeping them afloat, but the younger white generation for whom bubblegum pop, psychedelia, blues-rock, all this was irrelevant. The direct, honest and potent music coming out of Jamaica was far more important, said far much more in the spheres of romance, of politics, of spirituality, than any of the middle-class, self-indulgent nonsense of the time did. Little wonder that the Clash and the Ruts (among many more) appropriated the sound in punk's first wave, and that at the early 80's height of Thatcher-inspired disaffectation, 2-Tone became maybe the most racially-mixed genre to date, with all the power to pass on a message that reggae had had ten years earlier. It's still going as well - in the 80's US punks like Operation Ivy and NoFX took the music on board, and in one form or the other it's rarely been out of the UK charts. Take a look in the humiliating cesspool of media fixation, Celebrity Big Brother, the newest idol is the singer of the Ordinary Boys, whose sound is taken wholesale from 2-Tone, and includes a cover of the Brumbeats' 'Rudi's In Love' - you know you're on a fairly substantial ska base with a song about someone called Rudi.


These days, Trojan have a series of what are possibly the best compilations out there - with such a high-quality catalogue, they've got literally the pick of the absolute finest Jamaican music out there and as such these cheap sets are just excellent.
Just to whet your whistle:
Eric Donaldson - Cherry Oh Baby
Cornel Campbell - I Will Never Let You